MURCIÉLAGA PROMOTIONAL VIDEO SHORT, 2001
In 2000, Studio G optioned the video rights to Murciélaga for a brief time to Design Concepts who made a fifteen-minute promotional video short for the character. The short starred
Linda Cevallos
and
John Taylor
and was produced in both English and Spanish. More credits are available at
IMDB
. A short trailer was also cut, and is available online in a few places including
Spike.com
and
Youtube
.
THE HOLLYWOOD MACHINE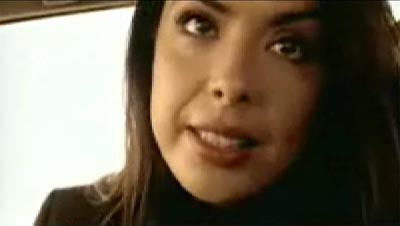 The process of moving a property like Murciélaga from one medium to another through an intermediate production agency often results in changes to the basic premise of the original concept. In some cases, serious changes occur. There are a lot of factors involved, but the end result is as often as not completely different from the original source material. Such is the case with She-Bat and the video that ended up being made. In an effort to be as sellable as possible to TV and movie execs representing both English and Spanish speaking media, the production agency took creative liberties with the character and her story.


WHAT WE DIDN'T LIKE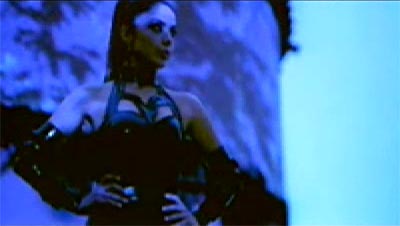 Let's be honest: We here at Studio G and many of Murciélaga's longtime comic fans were a little less than happy with the nature and severity of the changes made for this video. Understanding that changes are inevitable when making a pitch to Hollywood, there were a few that really stood out as extreme. In the end, a really cool video was made which bore little resemblance to the original character.
The primary change that stood out was the character's origin story. Rather than merely being born with hyper-sensitive hearing, in this version She-Bat is instead "transformed by a dark force". Two other very serious changes made are the fact she has a daughter in this version, and her name was changed to Ericka. Oddly enough, of all the proposed changes made that we at Studio G were presented with, it was the name change that we contested the most.


WHAT WE DID LIKE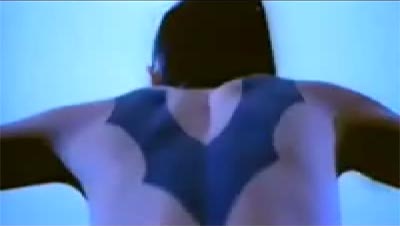 That said, there was a lot we at Studio G actually did like about this take on her and the overall video. Despite the issues mentioned above the production quality was very good, the casting was good, and the overall finished product was very slick and professional. The fight scenes were fun, and Murciélaga was presented as a capable and strong heroine, which is paramount to us in any incarnation.
Though used very briefly, they did keep the striking red inner lining to her cape/cloak (the only element of her costume that survived the revision process). We also liked the hidden weapons she was given, such as the dagger and sonic grenade. While She-Bat has to date never appeared in print with either of these weapons, both are the kind of item she might carry in her pouches or hidden in boot flaps (Ok, maybe not the sonic grenade... not the smartest weapon for a person with hyper-hearing to use). One addition she was given for the video that was actually adopted to some extent in print afterwards is the bat tattoo on her back. In the full length fifteen-minute video this tattoo is seen to glow with the "dark force" power she was given, this aspect did not make the shift back to her comic incarnation. Sharp-eyed fans caught the use of this tattoo in one of the three so-called 'flip book' stories printed in the early 2000s. In the off-canon alternate stories being produced for MythComics.com She-Bat does not have the tattoo but instead the image appears as a patch on the back of her costume hidden beneath her cape.


THE TRAILER
Have a minute and a half to spare? Miss the trailer link on
Murciélaga's main page
? Check it out here! One day the full fifteen minute video may make its way here... For now make a batch of popcorn, grab a friend, get cozy, and click the player to the left to enjoy She-Bat at her reinterpreted, live-action, ass-kicking best!
Any and all artwork displayed herein is &copy Studio G, Emjee, Dærick Gröss Sr., and/or Dærick W Gröss, and is solely the property of Studio G unless otherwise noted. Murciélaga, She-Bat is © 1987-2010 Dærick Gröss Sr., all rights reserved. Selected comic book samples are &copy their respective owners, and are posted here for portfolio display purposes only. Questions, comments, suggestions and broken link reports (please) can be sent to:
webmaster@studiogart.net
.
Site optimized for viewing with Firefox at 1280x1024 resolution.