ABOUT THE "BAT" THING...
The following images are NOT Studio G's property and are © to their respective owners. Their use here is strictly for comparison as presented in the following text.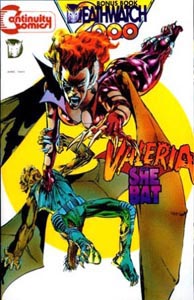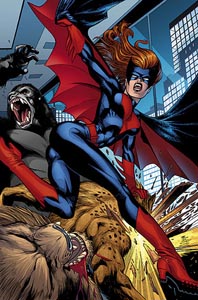 There's no getting around this conversation, it has come up for for over twenty years now.
Neal Adams
and Continuity Comics also have a She Bat, and she came out at just about the same time as well.
DC Comics
has Batwoman, and let's be honest here, they have
everything
"bat". So where does Murciélaga fit in to this? Aren't there conflicts of interest here? Are the lawyers lining up to take their cut in a massive litigious throwdown?
Nah. It isn't that complicated, and really there isn't any real compromise or conflict here. Let's start with Valeria and Continuity Comics. The only real overlap in this case is just in the name "She Bat". Since both characters have a different primary name they go by, and the characters and market are so different there really wasn't any problem. An agreement was made early on however that the two characters would never show up at the same party wearing the same dress. That would end VERY badly...
Ok, so let's talk about Batwoman and the whole "bat" thing. In 1988 when Murciélaga was created, she absolutely was inspired by the original 1950s Batwoman as well as Dærick Sr's lifelong love of comics in general. The intention was to create a strong female heroine at a time when there were very few in comics that weren't overtly sexualized or diminished in some way. As the character was taking shape, D Sr pulled from inspiration all around him... Living in Los Angeles, the Hispanic angle was very influential. The "bat" theme was powerful, but daunting due to the legal ramifications. Super powers were not high on the list of things to use for her, so the resemblance was potentially even more striking. The decision was to give her a hyper-hearing ability, which became part of her story in overcoming the dysfunction that brought to her life. This allowed for a grittier background story than the candy-color days of the 1950s inspiration. This also helped to define her as a character very different from DC's Batman mythos where the characters do not have super powers of any kind. Her bat theme is a natural extension of her abilities. Her story and use of character is completely different from anything in the DC universe. Conversations between D Sr and DC in the early 90s when he was doing some work for them cleared up any potential legal concerns. It was decided there was no infringement on the intellectual property, and Murciélaga was free to see print and develop. The odd thing that occurred in the 2000s that surprised quite a few people was Batwoman's return and the similarity in costuming between the two. We here at Studio G don't feel there was any direct intention to copy the look of our character, and that the development of her look was completely independent (DW's guess is that Batwoman's costume was more inspired by Batman Beyond). As with Continuity Comics, the audience is different, their stories are different, and the only similarities are incidental at best.
So, the bottom line on this is not to worry. Fans can rest assured these characters are not compromising each other, and there are no conflict of interests between any of them. We won't even get jealous if you call us by another bat's name when you whisper sweet nothings to us, just don't forget flowers on our anniversary!