THE MENACE OF GAMS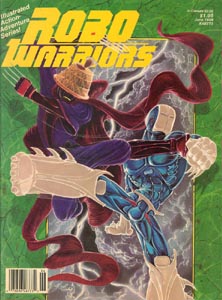 Titled "The Menace of Gams", this 14-page Reiki story features the introduction of Murciélaga and Soliloquy Jones. It also is the first appearance of the villainess known as Gams.
Sifu brings in two new new students and reveals more secrets of the school. Discovering the presence of a deadly international thief, Reiki and Murciélaga head out in pursuit to face her.
ALL RIGHTS RESERVED
The artwork, characters, stories, etc. displayed here are © Studio G and Dærick Gröss Sr. All rights are reserved, please
ask
before using our images and property.
Any and all artwork displayed herein is &copy Studio G, Emjee, Dærick Gröss Sr., and/or Dærick W Gröss, and is solely the property of Studio G unless otherwise noted. Murciélaga, She-Bat is © 1987-2010 Dærick Gröss Sr., all rights reserved. Selected comic book samples are &copy their respective owners, and are posted here for portfolio display purposes only. Questions, comments, suggestions and broken link reports (please) can be sent to:
webmaster@studiogart.net
.